About the Artist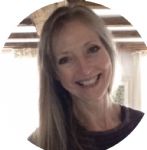 Happiness is being in the wilds of nature sketching.
Iím inspired by beautiful countryside
and
I may be found with my easel panting, h
uddled under a large umbrella, often
observed by
curious people and
occasionally
farm animals!
influenced
by the
British climate
At art school I studied Illustration and Graphic design.
O
bservational sketching & d
rawing from the
life model was
encouraged, and began my
passion for drawing and painting from life.
I still hear echos of my tutors guidance when confronting a particularly challenging subject!
I received an M.A degree in Graphic design at De-Montford University Leicester, taught
illustration at degree level and became a freelance illustrator & designer for publishing, advertising, fine art print and greeting card companies.
Moving to Shropshire I focused on painting rural subjects which became the basis of my greeting card and print business as displayed and available for sale in this website.
My latest artistic adventure is delving into the world of imagination and abstraction which offers a completely different way of working. Some of these can be seen in the section Abstracts and fantasy
My other interests including Family and friends, are music, teaching Yoga & meditation, and fitness.